Post by HoosierTrooper on Jan 30, 2012 19:26:23 GMT -6
One of the most commonly asked SE related questions is: Where can I buy blades for my SE? I have put together a guide that I hope will help SE fans find their perfect blade.
American Safety Razor/Personna is by far the largest producer of single edge blades that are suitable for shaving. They manufacture the Treet, Gem Blue Star, CVS brand and PAL blades. Treet, Gem Blue Star and CVS blades are uncoated carbon steel blades that come packaged in a grey, vault type dispenser that has a slot to place used blades in. They have 009 RD stamped on the spine, which denotes the blades thickness, .009 inches, and RD is for regular duty. It is possible that these are the same blades, I have used a large number of each and cannot tell them apart.
PAL blades are also carbon steel but have a dark blue coating, and have the word PAL stamped on the spine. I have never found PAL blades in any retail stores, but it appears they come individually wrapped in cardboard sleeves and in the ASR vault dispenser. The medical supply sites that I will talk about later sell PAL blades in bulk amounts.
Carbon steel blades will rust or tarnish if they are left in the razor wet. I remove the blade after each use, place it in a folded hand towel and "pat" dry, then store in a small plastic container that has a cotton ball and sometimes a desiccant pack. Even doing this the blades will sometimes develop dark spots on the sides but I have never experienced any rust or tarnish on the blades edge.
Treet blades are carried by Rite Aid drugstores, and of course the CVS blades are available at CVS. The Gem Blue Star and PAL blades are carried by various independent drug and grocery stores, and at some of the large chain drugstores. I have found Treet's at IGA grocery stores and Gem Blue Star blades at Family Drug.
ASR also make stainless steel SE blades that are carried primarily by Walgreens drugstores, but they may also be found at independent drug and grocery stores. The stainless blades also come in the same vault type dispenser as the carbon steel brands, but have GEM and STAINLESS stamped on the spine. The package sold at Walgreens doesn't indicate that they are coated, but some members here and at other boards have contacted ASR and were told they are. I cannot confirm this.
ASR also supply blades in bulk amounts to supply companies for use in medical equipment; the two largest of these are
www.tedpella.com
and
www.emsdiasum.com
Individuals can purchase blades from these medical supply sites and they usually come with 100 blades packaged in white boxes with the blades individually wrapped in a protective cardboard sleeve.
www.razorbladesandmore.com
sell these boxes in 50 and 100 count.
In addition to the retail stores and medical supply sites most of the SE blades can be purchased at online sites such as Amazon
www.razorbladesandmore.com
www.westcoastshaving.com
and others.
Feather makes a single edge blade that was originally made to fit in their brand of razors, but these blades also work in the Valet Auto Strop razors. The Feather blades differ from the standard SE blade in three ways. First, they do not have a spine, second they have cutouts in the body of the blade so they will fit in the Valet models that were made originally to use only the Valet proprietary blades, and third, they lack the cutouts on the sides so they will not work in the Micromatic razors.
The Feather blades will work "spineless" in some of the Gem/Star/Ever-Ready SE razors and can be used in others by adding a spine from an SE blade. Before using a Feather blade test it to make sure the blade doesn't slide backwards in the frame, the spine on an SE helps hold the blade in place.The only vendor I know of that currently stocks the Feather blade is
www.razorbladesandmore.com
The third company that markets SE blades is Dorco of Korea. They probably make the house brand blades for stores such as Meijer, Dollar General and Family Dollar. I've looked at these blades and the package just usually says Made in Korea, but, since Dorco is the only known razor blade company in Korea it is logical to assume they are making the blades for the stores mentioned above. Dorco also sells SE blades that aren't specifically labelled as shaving blades. I've tried them and they aren't very good.
I invite anyone that can add to this list, or correct any mistakes I've made, to please do so.
ASR/Personna carbon steel blades.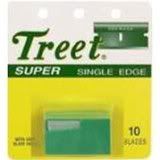 Walgreens Gem/Personna stainless blades and a typical 100 count box from a medical supply site.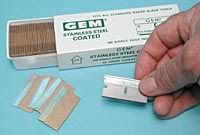 Feather SE blades.