Post by GarnerPW on Sept 10, 2017 14:15:21 GMT -6
I ordered some Uncle Jon's Soap on 6 September. They arrived on 8 September. I live about 80 miles from the store but it would take me over 3hrs to get there. I would have to go up to Baltimore than back down on the eastern shore. I ordered 2oz containers of Pipe Smoke and Gravity. What was sent was a 2oz of Gravity and 4oz of Pipe Smoke. I had to look twice at at the shipping invoice as I had gone back and forth on ordering the 4oz of Pipe Smoke but wanted to make sure I liked it first. After looking at the invoice multiple times I had ordered the 2oz container and they gave me the 4oz. This review will be about the Pipe Smoke.
I got a purchase ordered from the Wife by telling her that the soap smelled of cherry pipe tobacco. On Uncle Jon's web site it describes as
"Our Pipe Smoke scent is a warm, spicy scent that combines a cherry pipe tobacco with a hint of vanilla."
After getting the soap it didn't smell like I had hoped it would. I think it smells more like Blades Grim Smolder. I don't necessarily dislike Smolder but it is not one of my favorites and there are too many soaps out there to keep an okay soap in your den. Alas there is still hope for the Pipe Smoke soap, it may be one of those soaps that change scents with lathering.
The first use was Saturday. I used a Frank Shaving(FS) 28mm Faux Finest Badger brush and a The Pioneer Woman Sundae Dish which I purchased from Walmart as a lather bowl. I soaked the brush in yet another bowl full of hot water from the tap while I was in the shower. After the shower I shuck the water out of the brush. With hindsight I shuck too much water out of the brush. I loaded the brush with soap for a good 30 sec or more.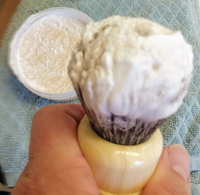 I had to add some water than tried to build lather again, a little more water, try to whip up some lather, a little more water, some more trying to build I finally scooped up some water from the sink. That did it, now I was cooking with gas. I probably add just a little to much water as the lather was just a little thin.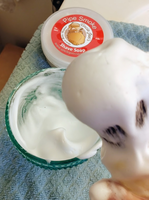 It did give me a lot of lather. Though I thought it was lacking a little in the slickness department the first time out. I will have to try again to see if this holds true or was it just me that needs a little more dialing in on the soap to water ratio.