Post by GarnerPW on Jul 31, 2017 7:22:45 GMT -6
wchnu
please post this where you see fit as it has elements of multiple threads.
30 July 2017 Evening Shave
Razor: GEM MicroMatic Clog Pruf
Blade: PAL
Soap: Colgate Cup Soap
Brush: AOS
Fine
Badger
Saturday the Wife and myself went grocery shopping. Before the grocery store we went razor hunting for razors that I could use as PIF's to new wet shavers. I found two things that I would like to tell you about here. The first was the Colgate soup that I have already posted about. The other was my first GEM MMCP.
This is how it looked when I got it.
When I got it home my son spotted it and told me he would like to give it a try. Translation "I like the looks of that razor. Can I have it Dad?". I told him he could try it after I tried it out first.
After some scrubbing bubbles and a bath in the ultrasonic with Dawn soap, this is what it looks like now.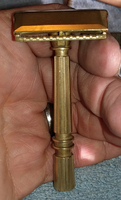 Yesterday I had chores around the house that I had to do, so I forwent my morning shower until after the chores. After the evening shower I decided to try out the Colgate Soap and MMCP razor. With all the love for Colgate here I was expecting great thing from the soap. The results were not what I was hoping for. It lathered quite easily but the lather was thin and did not have that slick feeling I get from my other soaps. After reading the the thread on Colgate over in the Soap Forum there is a general view that there is a difference between Colgate Cup Soap (which is what I have) and the Colgate Mug Soap. Now I am not about to give up on this soap after just this one use. Heck it could have been and probably was me that hosed it all up. I added a lot of water to the soup from the start. Probably to much water as I dumped some water off the soap mid load.
This is my first MMCP razor. It's a heavy razor that I found myself pushing down on during the shave verses letting the weight of the razor doing the work for me. It is
VERY
mild, I don't think I could nick myself with this razor even if I wanted to and tried to do it. The shave after to passes was okay not quite DFS but acceptable. There was to many variables in the shave to say it was one thing or another that caused the shave to be less than stellar. The bladed I used has had 6-12 shaves on it, the new soap, the new razor and the biggest factor me myself.
Conclusion: I will have to try the razor again with some Arko Soap. Then a second time with a fresh blade. After that I may pass it on to my son as I have a MMOC headed my way I won on the Bay last night. The Colgate soap I will use again tomorrow morning with my normal amount of water in the brush and a Schick Injector from my rotation. As I recall there wasn't any kind of sent to the soap. If I used AS this would be a good one to add my favorite scent to.
No animals were harmed in the making of this review
Edit: Brush was AOS
Fine
Badger not Best Bager as was stated in original post.