Post by birdlives on Mar 26, 2017 20:24:56 GMT -6
I present the Schick Simplified Automatic....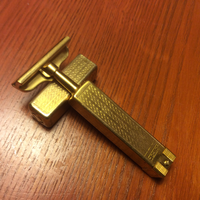 This model followed the "New Schick Repeater" or B type...The B type was the last Schick razor designed by Col. Jacob Schick...
Our friend ,
riverrun
has shown this patent drawing by Jacob Schick on this thread:
theoriginalsafety2.com/thread/2287/march-24
This patend Applied for in 1929 shows basically a B type repeater with a more advanced internal mechanism. One that never went into production til after Schick had sold his company, name, and patents so he could pursue the development of his dream, the electric razor..
Victor Octavious Rodrigues became the chief designer at the Schick Co. and he implemented this new internal mechanism into a whole razor design that became the Schick Simplified Automatic. The following are a couple patents filed in 1933 and 36....Here we see the c type in full completed development aswell as the C3 smooth safety bar shaving head....Rodrigues was perticularly proud of this smooth safety bar...
These are the Pat'ds I have for the C-type...
riverrun
or anyone else who has other C type patents or info please feel free to add...
Schick' patents and influence can be seen in the loading mechanism of Rodrigue's c-type and Schick had secured patents on the injector blade magazines that we didn't see in production til Rodrigues designed the D and E type Injectors years later....But those are a story for their own threads..
One thing I find interesting....This is not an anthology we see here...These different models were not improvments....only different. I believe Rodrigues wanted the C type repeaters and the D and E type injectors all made concurrently. I think he wanted his generation of shavers to have all those choices. But the Schick Co. decided to release them one after the other..and of course it looks like WWII stopped all production except for the Military E type contract. After WWII only production of the E type continued...
Shame...it would have been interesting to see the development of modern repeaters...But I guess, by the 1940's, those intricate internals were already becoming cost prohibited...