Post by BeBerlin on Feb 6, 2015 5:21:20 GMT -6
Let's re-define "Artisan Product", shall we?
German engineering meets medieval soap witchcraft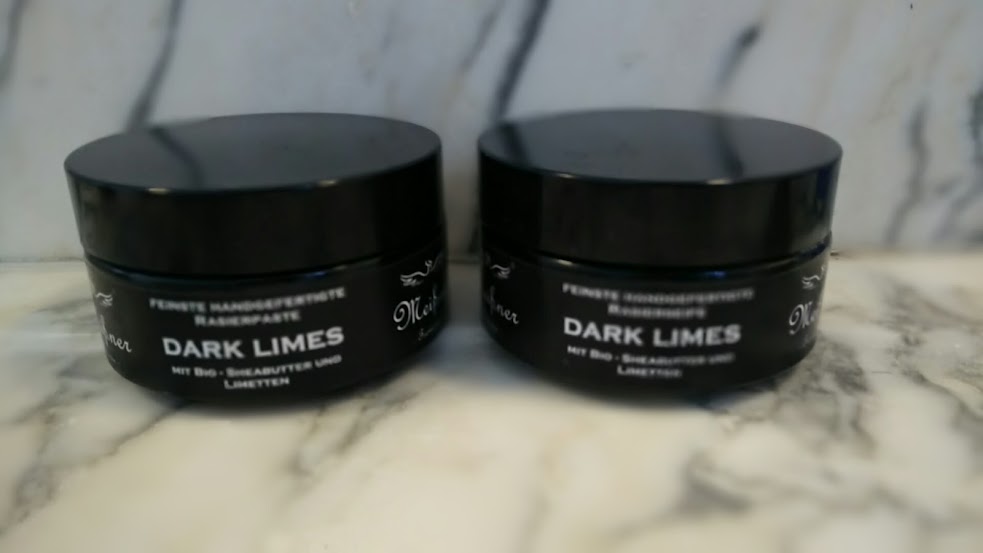 Left, shaving paste. Right, soap.
Right. Shaving soaps and related products. As you all know, many new companies have recently been founded. Typically, they call themselves artisans, because anything that is "artisinally made" sells. A look behind the scenes, however, typically reveals a bathtub, a power drill, and soap flakes and oils cheaply bought online. So whenever I come across the term "artisinal", I get suspicious.
On the other hand, Stefan Peter Wolf of
NassRasur.com
is one of the most knowledgeable people I have ever met when it comes to shaving paraphernalia. So when Stefan launched a line called Meißner Tremonia in his shop, I got curious. Because the last product line he launched was Alvarez Goméz, one of the very few product lines which can sensibly vie with Castle Forbes for the number one spot in wet shaving.
And indeed,
Meißer Tremonia - Die Baderisten
(meissner-tremonia.de) are different. As are their products.
So I called Thomas Meißner, and asked him about his products. The call ended with my placing a sizeable order. When the package arrived two months ago, I thought I should share my impressions with you.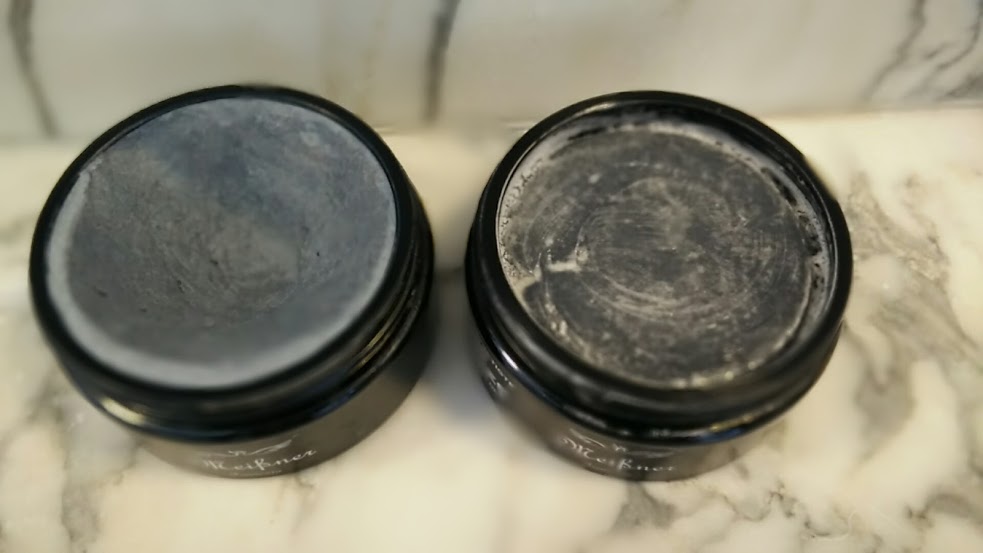 Fun, eh? Dark Limes. Getting it?

Before I begin, let me tell you a bit about Meißner Tremonia, though. The company was launched in November 2014 by three people from Dortmund, Germany. Their approach is as simple as it is rare, "less is more". Several years ago, while doing research for a historical novel set in the middle ages, Thomas got interested in the business of the old Bader (the German term for medieval barbers, and more). One of the things he found fascinating was how they made their soaps. Later having researched soaps and shaving products currently sold, he decided that they simply contained far too many ingredients - including those you really would not want to get in touch with your skin. He also worked closely together with a local barber, because nobody is more critical of shaving products than someone who uses them with clients.

Another challenge was the actual process of making soaps. Today, the most widespread industrial process involves automated mechanical milling. If you are looking for a high quality product, "triple milling" is what most people look for. In fact, many high quality soaps are made using a "triple or more milling" process, Green Mountain Soap being a prime example. Milling serves two purposes, saponification and dehydration.
Meißner Tremonia chose a different approach. They use a traditional copper vat for saponification, cold-stirring their products, and then letting the resulting soap rest for several weeks to remove the remaining humidity. This results in extremely densely packed products with a high degree of efficiency.
So he started with a minimal setup of the highest quality ingredients available. Several years later, he had come up with products which actually worked well enough for him to decide to start his own company.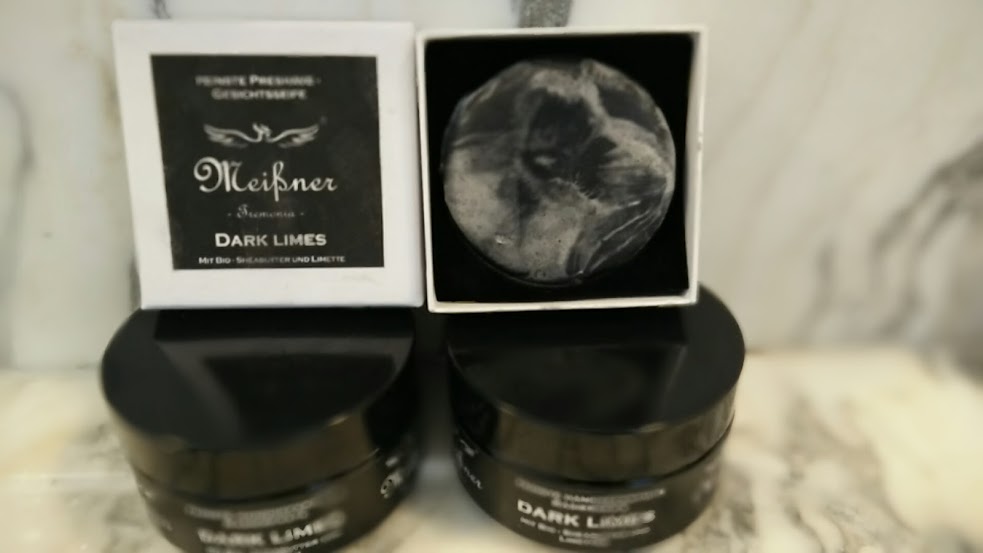 So, on to the review...
Packaging: 10/10-- Heavy, violet tinted glass, to protect the product from the detrimental effects from UV rays. The jars can be bought separately, too, and are meant to be re-used with refills.
Ease of lathering: 9.5/10-- Very few high quality soaps I have tried so far deliver so easily and so consistently. Let us go through the lather making process. I am using an experimental sample for the purpose of this exercise. The scent is Black Beer No1.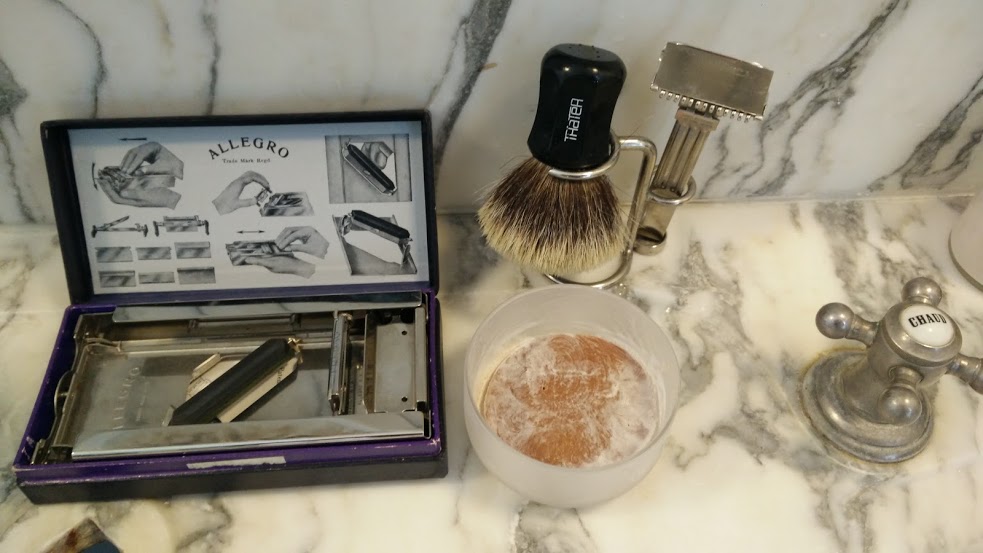 The test setup. Meißner Tremonia Black Beer No 1, 26mm Thäter two band fan, Heljestrand Simplex.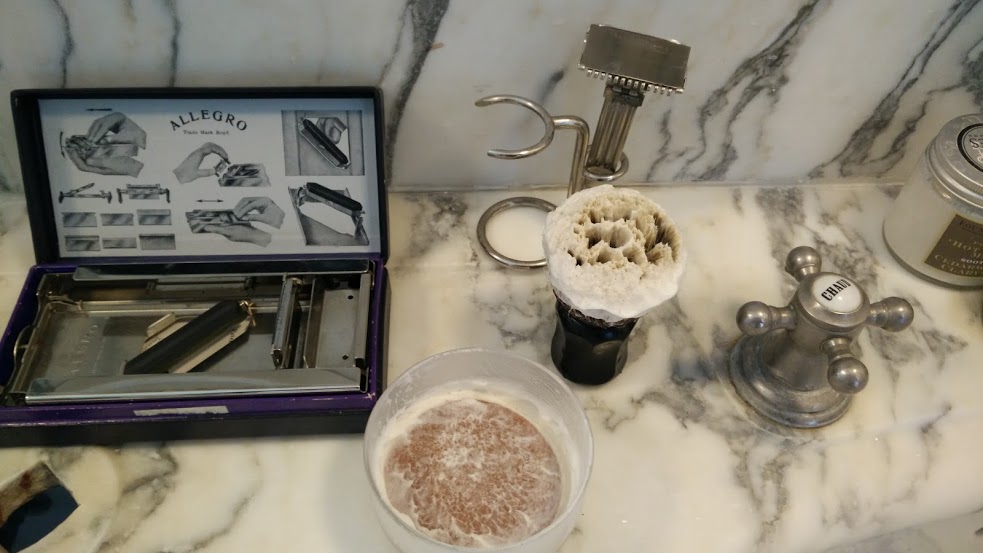 60 swirls later, stable proto lather has been built.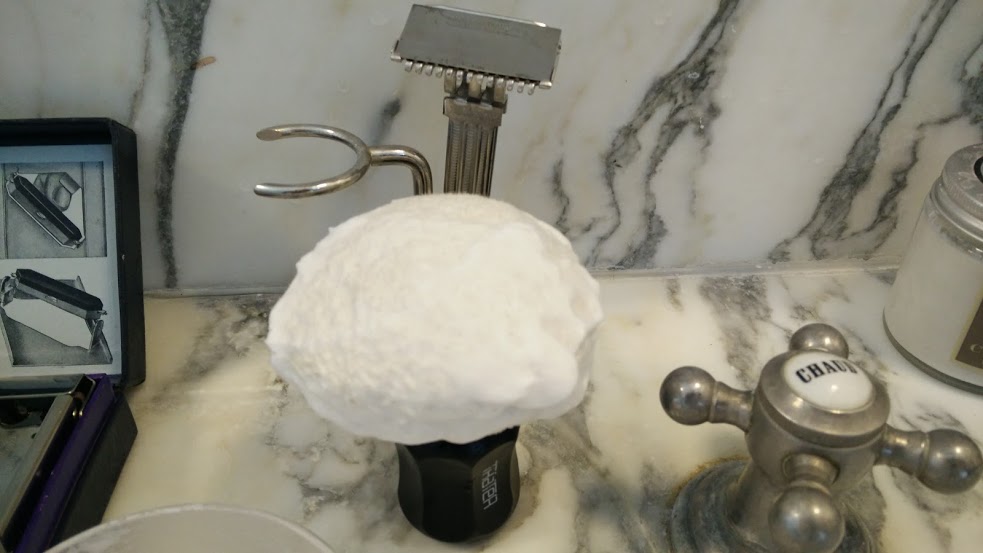 30 seconds in a lathering bowl later, we have... a lather bomb.
And that is it. The first batch of this product used one ingredient from a different supplier, and was significantly harder to lather. MT exchanged these batch, and offered buyers a 50% rebate on their next purchase on top of that. How is that in terms of client care?
Lather quality: 10/10-- Stability and density do not get better. The product is right up there with the best of them (Xpec, Castle Forbes, Green Mountain Soap, you name it). The lather is slick without being greasy (eat this, Valobra and many Italian products!), and will easily outlast a 15 pass shave.
Cushion: 10/10-- Just as it should be. The lather lets the blade glide across the skin without offering resistance, but a protective film remains. It remains after you wash off the product, too, courtesy of the insane amounts of high quality oils used.
Slickness: 10/10-- Again, just right. Glide is there, but the skin is never slippery. Perfect.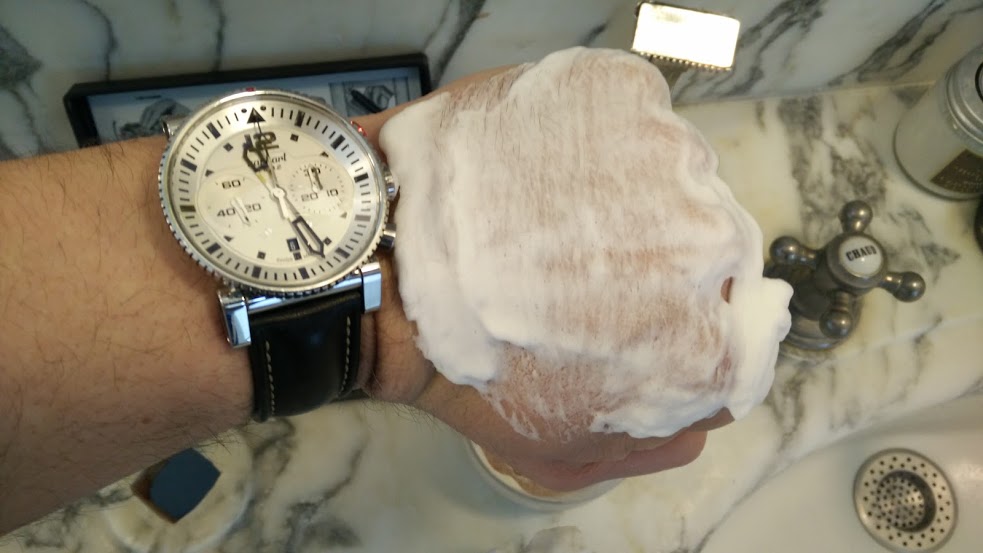 Dense lather that is easily applied and remains stable for a long time.
Beard softening: 10/10-- If used in combination with the preshave soap featured in a picture above, nothing I know prepares a beard better for a shave than Meißner Tremonia. Not even Castle Forbes, and I never thought I would ever write this.
General skincare: 10/10-- Un. Be. Lievable. You have to try it to believe it. Any of you familiar with products by Esbjerg, Green Moutain Soap, or Calani Seifenmanufaktur will know what outstanding skin care is. Meißner Tremonia products are in a league above. If you have delicate or sensitive skin, you can blindly shop with them (or, of course, Esbjerg). The skin feels significantly better after a shave than before. When did that last happen to any of you except the outdoorsy types?
Scent: n/a /10-- Well, yes. Thomas Meißner is a self proclaimed "scent maniac". Whatever it says on any of the labels, brace yourselves for a surprise. Lavender? Yes, but with a Geranium note, ie floral, not spicy, lavender. Grapefruit? Sure, and have a heavy dose of Eucalyptus with that, too. Limes? Dark Indian limes like you have never smelled them before (my absolute favourite, and easily one of the most interesting scents I have ever tried). And that is not even mentioning scents like Salty Sea Sage (spicy Sage with a hint of something very, very fresh), Black Beer (made with Köstritzer, Prost!), or Moroccan Rhassul (with cedar, vanilla & musk). Get samples first, these scents are not for the traditional types, let me tell you that. If in doubt, and if you like citric scents, go for the Dark Limes (the products in the pictures above).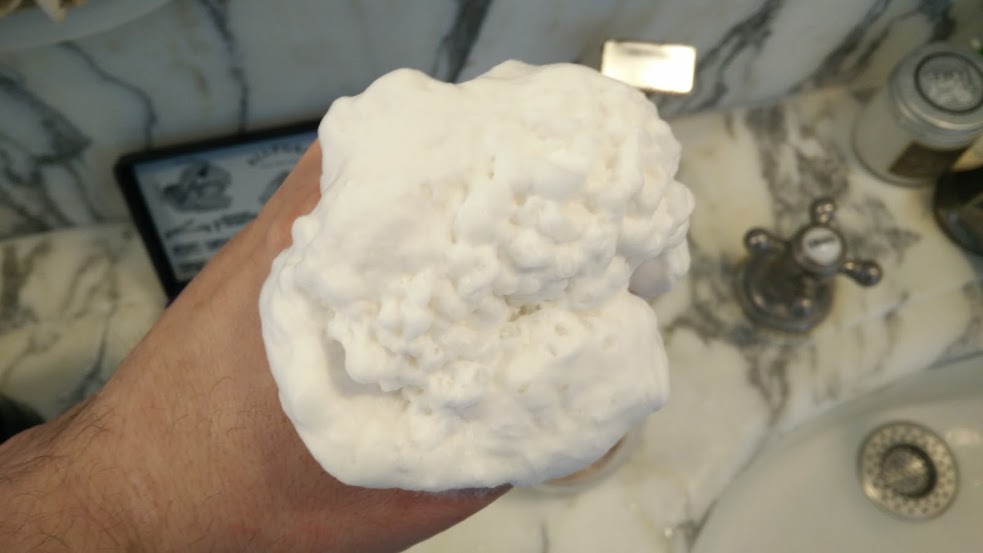 You will get all of this from a 26mm brush...
Price: 10/10-- Well, yes. The price. Many so called artisan products retail for something like $10 for 100ml or more. That is, of course, ridiculous, unless you use Chinese child slave labour base products - with all the funny skin side effects this typically entails. Meißner Tremonia products are different. 90ml shaving soap or 200ml shaving paste cost $30 including the glass jar.
Wham!
What do you get in return? The highest quality ingredients I have seen used in any shaving product so far. Think Martin de Candre, just better. You get a beautiful glass jar (which, if bought separately, will cost you $8). But let us not beat around the proverbial bush: If all you want is a nice smelling product that lathers, contains not cyanide, and is made from God knows what, you can easily find cheaper products that come with an "artisan" label. Only, the quality... the quality... Meißner Tremonia products are, in my opinion, worth every cent. They are, of course, extremely efficient (the soap more so than the paste). They are hand crafted (cf power drill in bathtub above) using traditional methods, cured for weeks, and lovingly packaged. So, expensive? Yes, but worth the ticket.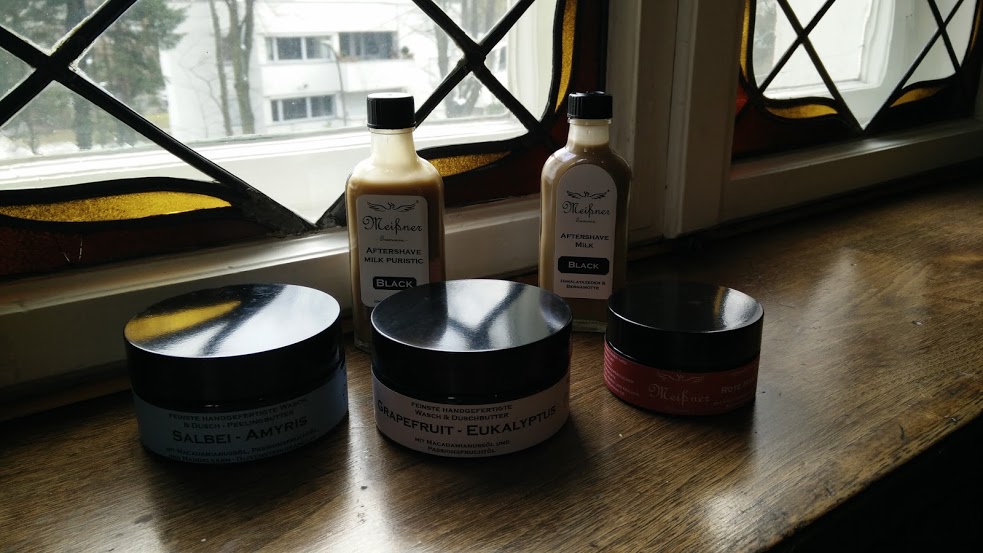 Being German (we exaggerate things because we can!), Meißner Tremonia offer lots of other skin care related products. Featured in the picture above are a shower and body scrub "Butter" (buttery consistence, dripping with skin care oils, the scent is Sage and Amyris), a washing and shower butter (Grapefruit and Eucalyptus), a shaving and body butter (red Mandarin and Menthol, can be used as a brushless cream with incredible aftershave care), as well as two bottles of aftershave milk (black beer and unscented, the latter being my least favourite scent, reminiscent of something medicinal from the sixties).

So, lots of shaving fun all around. If you are running out of any of your high quality products, have highly sensitive skin, want something strictly vegan, or are simply looking for what is arguably the best performing shaving product line in the market, look no further. And if you are in Europe, and want a sample, I am sure something can be done about that, because based on the efficiency of these products, they just might outlive me otherwise.